Delano Magazine (Luxembourg, October 2013)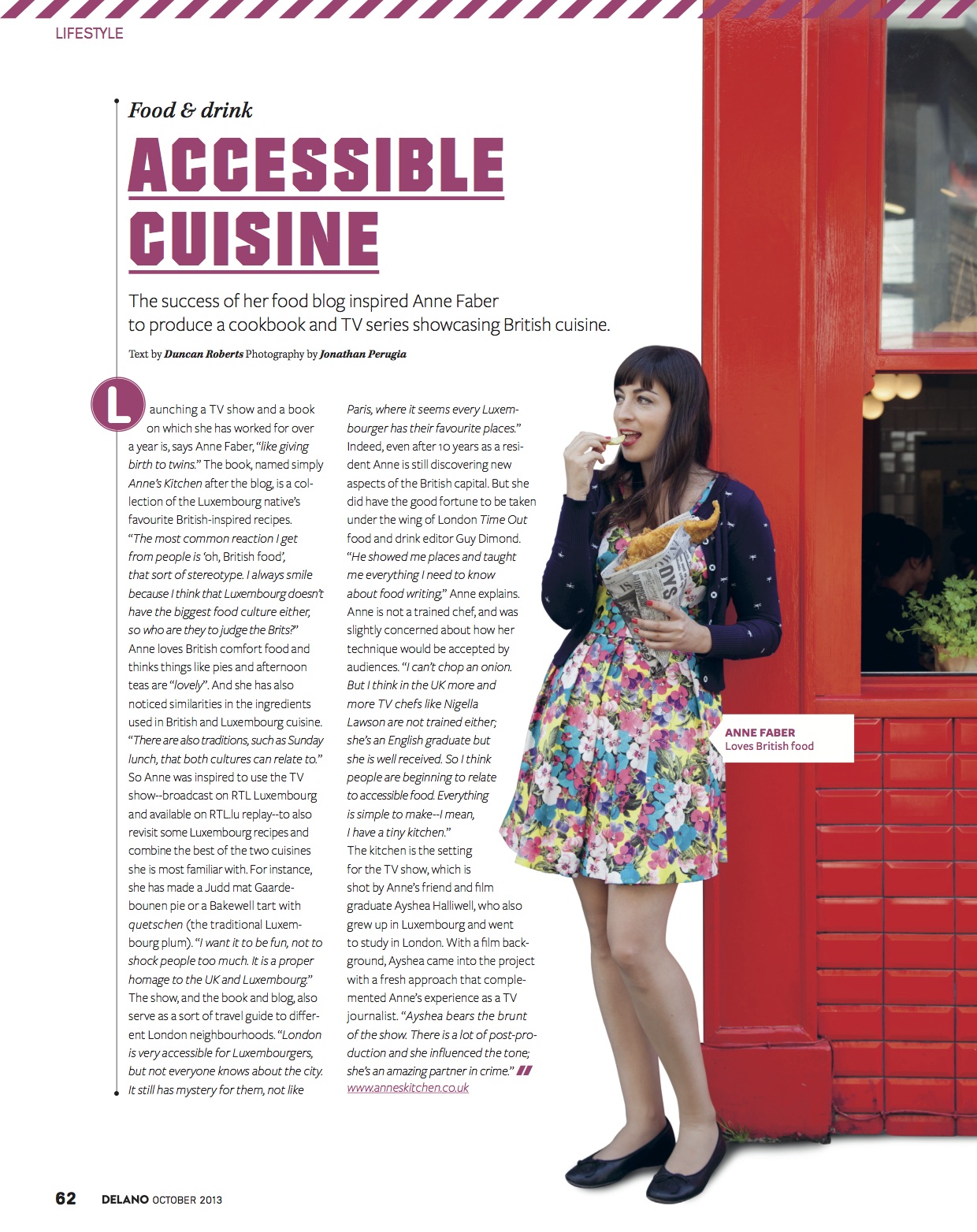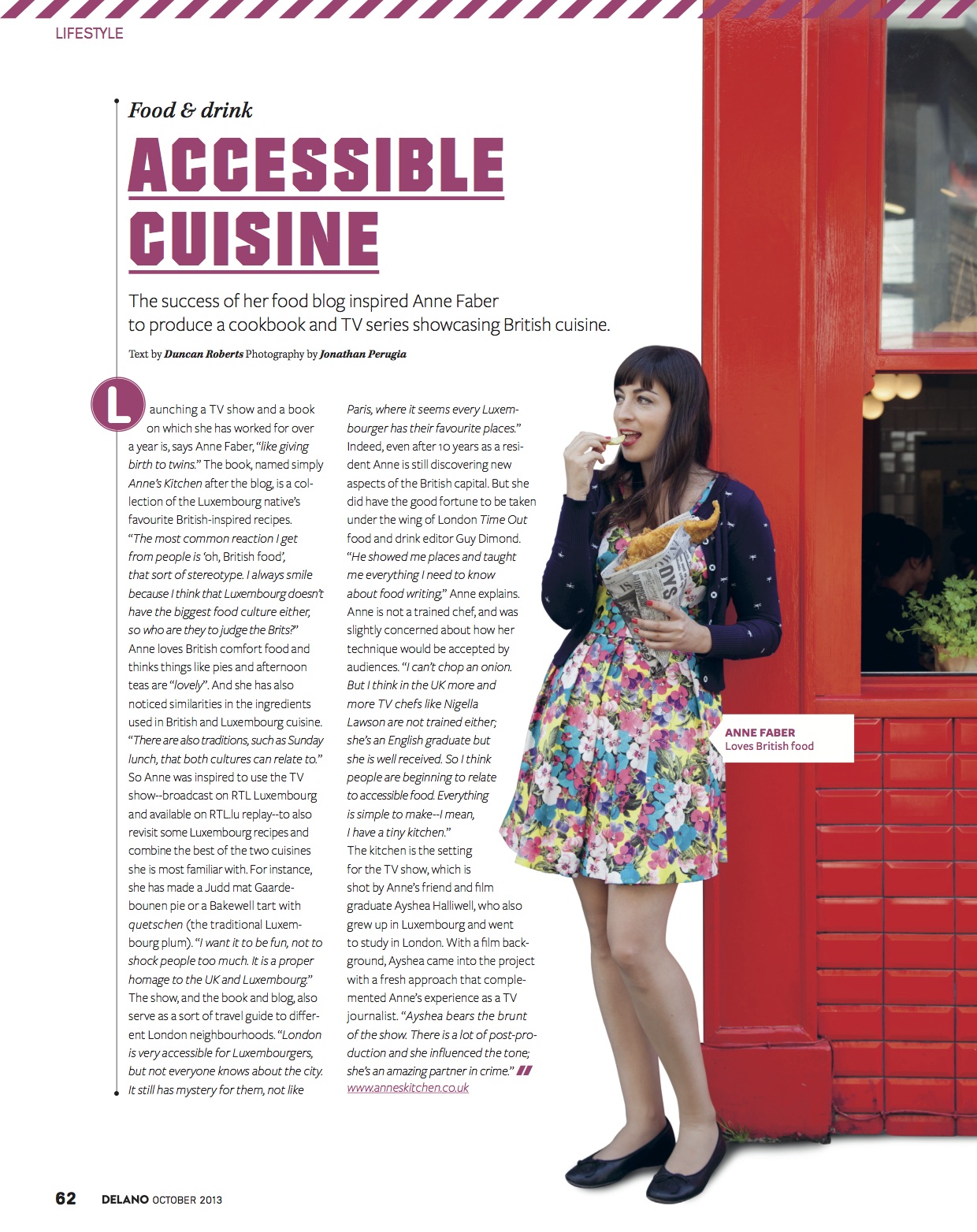 Read
This
Article
Delano Magazine (Luxembourg, October 2013)
Accessible Cuisine
The success of her food blog inspired Anne Faber to produce a cookbook and TV series showcasing British cuisine.
Text by Duncan Roberts Photography by Jonathan Perugia
Launching a TV show and a book on which she has worked for over a year is, says Anne Faber, "like giving birth to twins." The book, named simply Anne's Kitchen after the blog, is a col- lection of the Luxembourg native's favourite British-inspired recipes. "The most common reaction I get from people is 'oh, British food', that sort of stereotype. I always smile because I think that Luxembourg doesn't have the biggest food culture either, so who are they to judge the Brits?"
Anne loves British comfort food and thinks things like pies and afternoon teas are "lovely". And she has also noticed similarities in the ingredients used in British and Luxembourg cuisine. "There are also traditions, such as Sunday lunch, that both cultures can relate to." So Anne was inspired to use the TV show – broadcast on RTL Luxembourg and available on RTL.lu replay–to also revisit some Luxembourg recipes and combine the best of the two cuisines she is most familiar with. For instance, she has made a Judd mat Gaarde- bounen pie or a Bakewell tart with quetschen (the traditional Luxembourg plum). "I want it to be fun, not to shock people too much. It is a proper homage to the UK and Luxembourg."
The show, and the book and blog, also serve as a sort of travel guide to different London neighbourhoods. "London is very accessible for Luxembourgers, but not everyone knows about the city. It still has mystery for them, not like Paris, where it seems every Luxem- bourger has their favourite places." Indeed, even after 10 years as a resident Anne is still discovering new aspects of the British capital. But she did have the good fortune to be taken under the wing of London Time Out food and drink editor Guy Dimond. "He showed me places and taught me everything I need to know about food writing," Anne explains.
Anne is not a trained chef, and was slightly concerned about how her technique would be accepted by audiences. "I can't chop an onion. But I think in the UK more andmore TV chefs like Nigella Lawson are not trained either; she's an English graduate but she is well received. So I think people are beginning to relate to accessible food. Everything is simple to make–I mean,
I have a tiny kitchen." The kitchen is the setting for the TV show, which is shot by Anne's friend and film graduate Ayshea Halliwell, who also grew up in Luxembourg and went
to study in London. With a film background, Ayshea came into the project with a fresh approach that complemented Anne's experience as a TV journalist. "Ayshea bears the brunt of the show. There is a lot of post-production and she influenced the tone; she's an amazing partner in crime.".
December 27, 2013