Welcome to Anne's Kitchen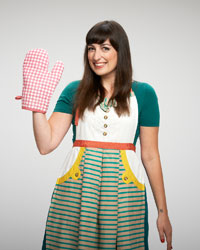 Well hello… My mission in life is to bring culinary inspiration to your home! Put on your apron, and let's get started!
All the recipes on here are super easy to make – I might have trained at Ducasse in Paris, but I still love to create simple, straight-forward recipes that anyone can make at home!
I'm from Luxembourg and I lived in London for 12 years – which has heavily influenced my style of cooking. I love anything British, baking is my second nature and Asian food has always had a fond place in my heart. Have a browse through the recipe index and let yourself be inspired by my mouthwatering and simple recipes. There's also a hell of a lot of Luxembourgish recipes (often with a little twist).
I also hope to inspire you through my TV Show, in which I travel around the world and cook yummy food in my little kitchen. Some expats even use the show to learn Luxembourgish, which makes me very proud.
So, I hope to provide you with plenty of inspiration. Happy Cooking!
Save
Save
Featured Video
Latest Articles
Christmas baking is something wonderful and I love to try out new…

Read More

Who doesn't love pizza?! Well, pizza lovers in the South Luxembourg now…

Read More

The most famous quiche in the world? It must be the Quiche…

Read More

One of my absolute favourite autumn tarts! A buttery shortcrust pastry is…

Read More

Bouneschlupp and pasta?! Yes, let's combine these two! I do love a…

Read More

I have fond memories of eating beans on toast when I lived…

Read More

Muhawhaw, the spooky season is here. My Instagram is filled with all…

Read More

For this month's Dibbe Duo culinary adventures with Urlaub Saarland, I'm headed…

Read More

Fries lovers, listen up! We all know that the Belgians make some…

Read More

This dessert is inspired by my favourite autumn flavours: apples, cinnamon and…

Read More

A super moist apple cake, made extra special with the addition of…

Read More

In Luxembourg we love our Rieslingspaschtéit, a cold pork pie made with…

Read More

Lunchbox boredom?! Well, here's one of my favourite pasta salads ever –…

Read More

For the second Dibbe Duo culinary adventures with Urlaub Saarland, I'm headed…

Read More

Okonomiyaki is a very popular Japanese cabbage pancake from Hiroshima and Osaka….

Read More

September is a big harvest month in Luxembourg, and for Luxembourg's winemakers,…

Read More

Plan your next taco night with these veggie sweetcorn tacos. Paired with…

Read More

🌭 Dibbe Duo Culinary Adventure: Exploring Kalinski's Wurstwirtschaft in Saarbrücken 🍽️ For…

Read More

How about a boozy sorbet on a hot day?! This mirabelle sorbet…

Read More
Latest Travel Tips
Luxembourg city boasts a mix of high-end dining and lots of French,…

Read More

With its famed Roman relics and extensive shopping offer, the oldest city…

Read More

Metz is a paradise for those with a sweet tooth. Pâtisseries are…

Read More

The capital of the Saarland lures in visitors to experience its unique…

Read More

My recommendations for Italy. Updated September 2019. ROME Rimessa Roscoli: Wine restaurant…

Read More

A fantastic knife shop right outside the former Tsukiji fishmarket. Here you…

Read More

If there's a food heaven it must be a Japanese 'depachika' –…

Read More

Tsukiji is one of Tokyo's most legendary places: the world's largest fishmarket…

Read More

Kappabashi Dori, also known as "kitchen street", is my favourite Toyko street…

Read More

Mark's Table – an intimate restaurant with passionate food Mark Sekita left…

Read More

Wadakura is a beautiful high-end restaurant in Tokyo's stunning Palace Hotel. The…

Read More

Café Litoral is a Portuguese restaurant in Tapia, Macau's southern island. Here…

Read More

Lei Yue Mun is an old fishing village in the middle of…

Read More

Little Bao is one of those hip Hong Kong places that I…

Read More

China Tang might sound familiar to some – indeed, the first installment…

Read More

Check out Tong Chong market to get a feel for the buzzing…

Read More

If you go to Hong Kong you just have to plan in…

Read More

If you want to get a real impression of a buzzing Bangkok…

Read More

Tom Yum is a really popular Thai soup: a creamy coconut-based soup…

Read More
New TV Episodes
A lovely dish to celebrate the end of summer! As September is…

Read More

There are so many good regional dishes in the South of France,…

Read More

Whenever I go out to eat at an Indian restaurant, I have…

Read More

I love a good daal – Indian spiced lentils that are pure…

Read More

I've been to Asia many times, and have even filmed a whole…

Read More

I really love dumplings and I've been playing with fun fillings for…

Read More

I love a good aubergine parmigiana – melting slices of aubergine layered…

Read More

Let me admit it: until I met my friend Elisa, my gnocchi…

Read More

Oh nachos! I think it's one of the most popular party and…

Read More

I absolutely adore tacos, and I dream to visit Mexico one day…

Read More

I absolutely adore Pastéis de Nata and I have never eaten better…

Read More

Last year I did a 3-week road trip through Portugal, and I…

Read More

In Israel food is a celebration. Wherever you go, you will find…

Read More

I've always loved hummus and been making it for years. But on…

Read More

A few years ago I was lucky enough to do a trip…

Read More

Say hello to my "Staycation Recipes" series, which aims to get you…

Read More

In this episode I'm cooking a dish from my favourite destination of…

Read More

These decadent brownies are sure to be a crowd pleaser! Gooey dark…

Read More

Kachkéis is as Luxembourgish as it gets! A stringy melting cheese with…

Read More

This dish immediately transports me to Jaffa beach in Tel Aviv… I…

Read More