Street Feast in Dalston Yard
Read
This
Article
Street Feast in Dalston Yard
Ok, let's not beat around the bush: London is a foodie's wonderland! I can't stress enough how amazing the restaurant scene in this city is, how many authentic eateries there are and how you can get any, really anything from around the globe here in London.
But the best is London's exploding streetfood scene! Over the past years, streetfood markets have popped up in every corner of this city – making it one of the most exciting ways to try food from around the world. What's more, streetfood is cheap, fun and often ahead of food trends that you'll later spot in restaurants and in supermarket aisles.
So, if you're into streetfood, you HAVE to go to Dalston Yard this summer. Until the 27th September, StreetFeast is popping up every weekend in the über-cool Dalston Yard, in the hip East End of London. Here, in a disused shed, you find a massive streefood pop-up market. Entry is free before 7pm, and costs a mere £3 afterwards.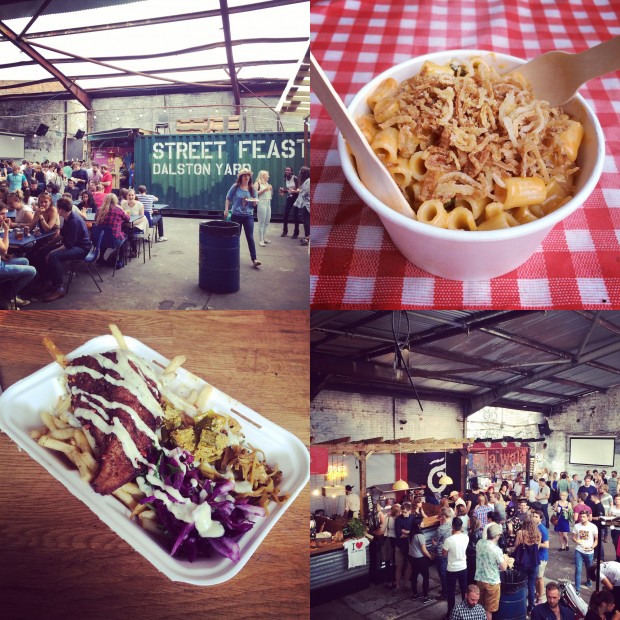 Streetfood stalls change every week, but there are a few traders that you'll spot every week. Amongst them the ever-so-amazing guys from Yum Bun (who make the fluffiest Chinese pork buns), soft Neapolitan pizzas by the Pizza Pilgrims, and B.O.B.'s lobster, who make brioche lobster rolls… There's also a 4.5 tonne BBQ Smoke Train, in which the guys from Smokestak smoke their meat.
And it's not all about food: at The Gin Store you find over 30 varieties of Gin and lots of great cocktails – which you can take out in pastel-coloured striped cardboard cups.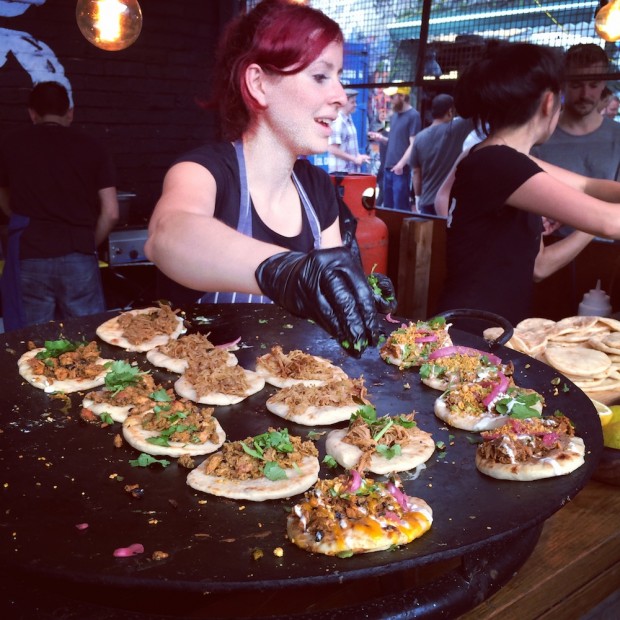 On my first visit, I had lobster mac'n cheese by B.O.B.'s lobster – pasta tubes covered in a creamy lobster bisque, specked with a few lobster chunks and topped with crunchy fried onions. It could have done with a bit more salt but was delicious nontheless.
I also had Masala Fish and Chips from Baba G's, the fish was covered with an Indian spice rub and came with spicy chili pickle and Indian slaw.
Our meat fix came from Yum Jungle – Thai fried chicken with sambal, Asian slaw and mango salad. I could have gone on and eaten everything from every stall, but I'll keep these adventures for next time!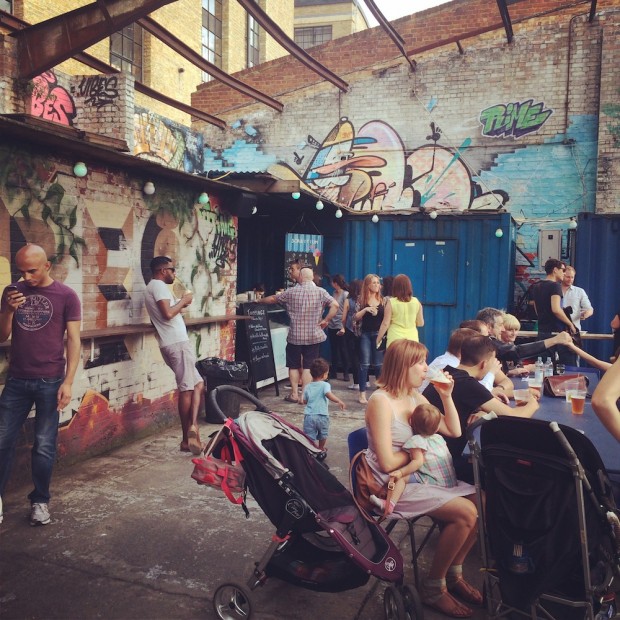 Whilst munching my masala fish and chips, I overhead someone saying that "street food is the new rave scene in London". How right they are!
July 13, 2014