Ciao Rome – a stay in the Eternal City
Read
This
Article
Ciao Rome – a stay in the Eternal City
I'm tucking into the most intense chocolate ice-cream I've ever tasted. Pure, delicious darkness with a kick of orange and dotted with huge nuggets of candied orange. It's unbelievable how good this tastes. I guess they weren't exaggerating when they were saying the Italians make the best gelato in the world.
Rome, the eternal city. It's one of those must-see places that's been on my list for ages. And this summer I finally got to go and experience (and taste) it for myself.and I have to say, it really didn't disappoint. Beautiful city, with lots to explore and discover and lots of yummy stuff to eat!
So, we were really lucky with the weather. Rome is notorious for being super hot in the summer. And, in the weeks leading up to our holiday, I was worryingly eyeing the weather report – with temperatures always hovering around 38°-40°. Too hot for a gelato to last longer than a couple of seconds! But somehow, by the time we made it to Italy, it had cooled down to a lovely 28° – the perfect temperature for endless walks and enjoying sitting in the sun.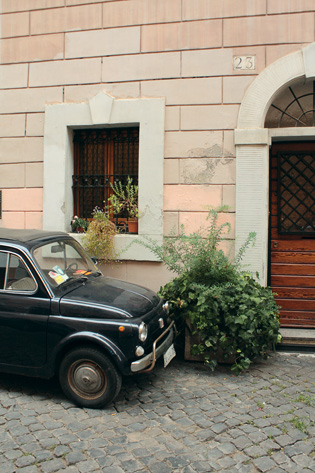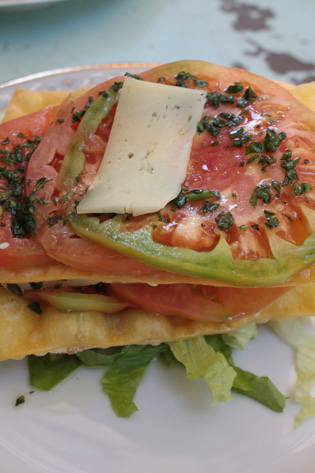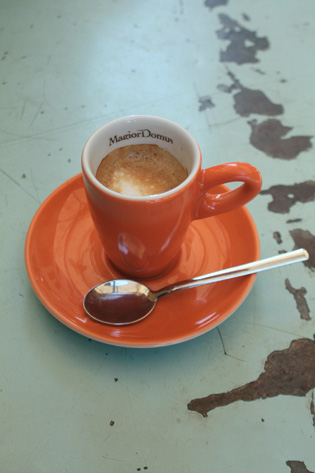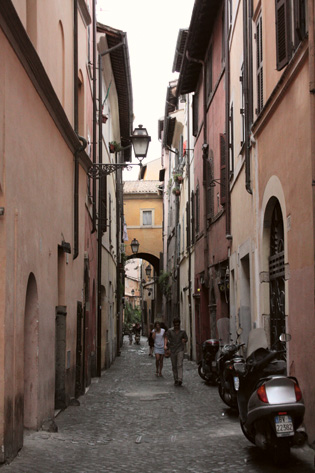 Now the first thing we noticed about Rome is that you have to walk a lot. A hell of a lot. I consider myself a pretty good big city walker – on a daily basis I probably walk around 2-3 kilometres in London, but that's nothing compared to the miles and miles we put behind us in Rome. So, if I can give you one piece of advice: take a good pair of shoes, you'll need them and your feet will be eternally grateful!
On the first evening we went to the lovely Trastevere district – where we wandered around the little cobbled streets in search of an aperitivo. We ended up having  a cocktail at Frene e Frizioni, recommended by our guide book for its popularity with young cool Romans. Cool it was, slightly too cool for me: reminded me very much of drinking in a bar in London's East End – not necessarily exactly what we were looking for in the eternal city. Nevertheless, it was a very nice and indeed very hip place (a converted mechanic's workshop with DJs and a huge aperitivo buffet with little nibbles to go with your cocktail).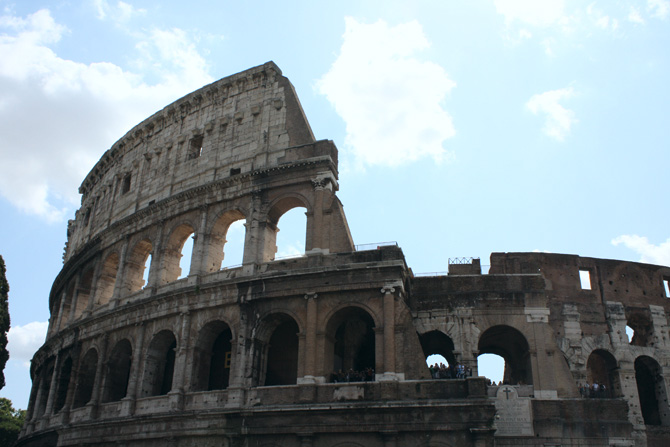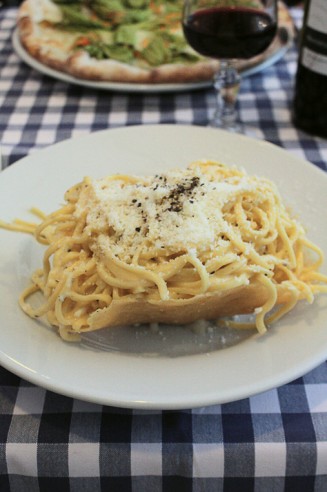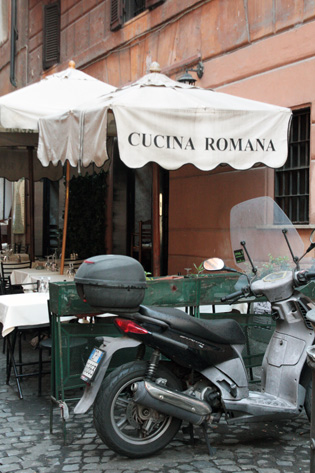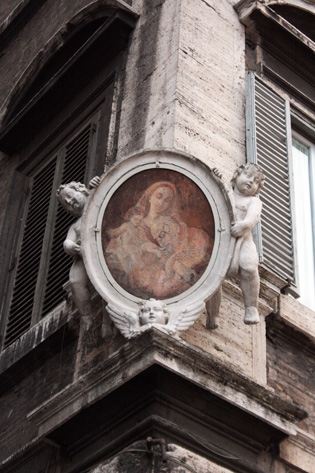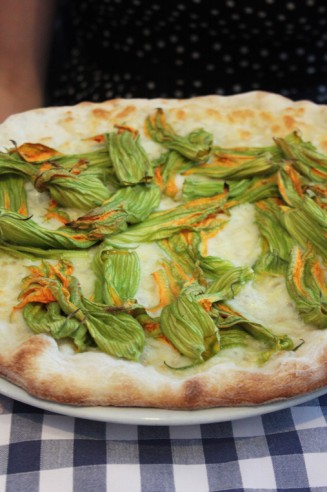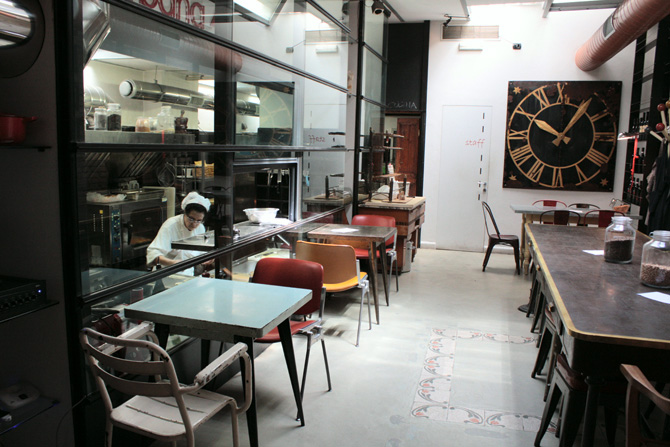 After that sampled the best pizza of my life. Seriously, I thought I'd eaten good, or even delicious pizza before. Tztztz, how naive was I?! At Da Poeta I had the fluffiest, chewiest pizza ever – loaded with what seemed like a kilo of buffala mozarella. Pizza heaven! Seriously, if you go to Rome, go to Da Poeta!!! I had a few more pizzas in other places during my stay, but none managed to get even close to the bliss of the Neapolitain pizza at Da Poeta… Damn, now I crave a slice…
Another Roman culinary delight you absolutely have to sample is.. no not trippa alla Romana (actually, you probably should, I didn't… next time!) .. but cacio e pepe. Simple pasta with pecorino cheese and black pepper. Sounds too plain? Well, it can be. Don't remind me of that night where we mistakenly went to a place (recommended in our guide book) that served us the driest, blandest cace e pepe. Such a frustrating experience. We were so disappointed. C. said that maybe that's what cace e pepe is: a dry bowl of pasta, with a ton of salty dry cheese and lashings of black pepper.
Well, it ain't! Thanks to two lovely Italian ladies that sat next to us the next night (and who we ended up chatting to for hours – C. in her increasingly brilliant Italian, me using my Spanish vocabulary and not getting anywhere with communication), I gave cace e pepe a second chance. And boy, I'm glad I did! A crisp parmesan basket, filled with fresh egg pasta in a creamy pecorino sauce, sprinkled with black pepper. Heaven.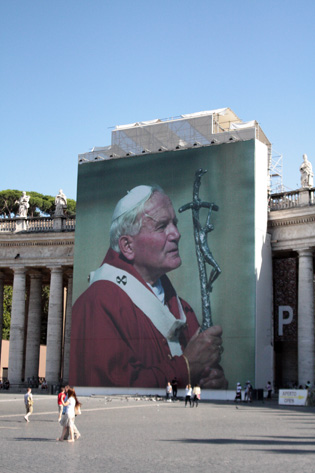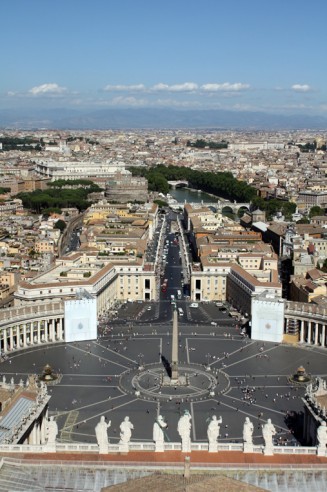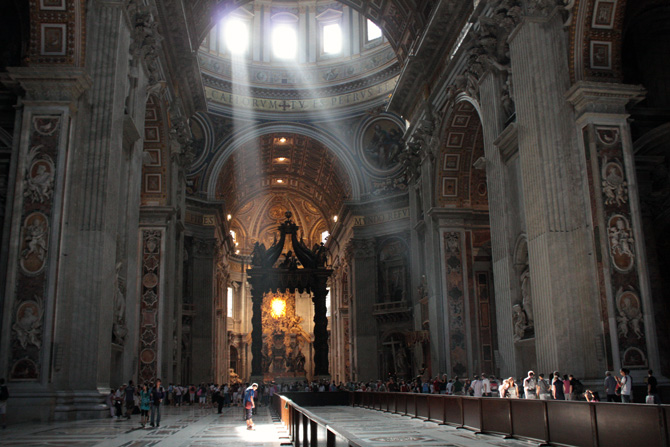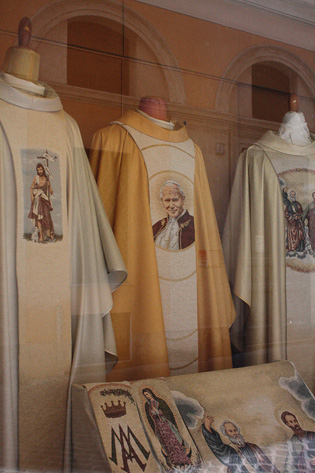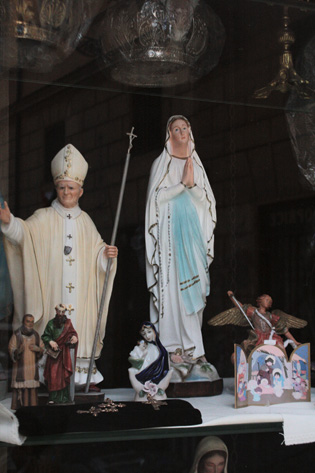 Talking about heaven… We obviously couldn't go to the eternal city without saying hi to God. The Vatican was lovely, even though we kind of missed the last admission to check out the museums… woops.. Well, that's for next time then! Instead, we climbed up a few hundred steps and ended up in the top of the St Peter's dome. Pretty scary stuff I tell you. The miniature, narrow staircase winds its way up around the cuppola, and it got more and more claustrophobic. At some point the nagging fear of fire started creeping up on me… C. laughed it off and asked me how a fire could possibly break out in a marble dome?! I said don't know, all I know is that when all hell breaks lose, it finds a way to burn down everything, even marble..
Anyway, as much as I enjoyed snooping around the Vatican, I personally get more of a holy experience out of strolling across a local fruit and vegetable market…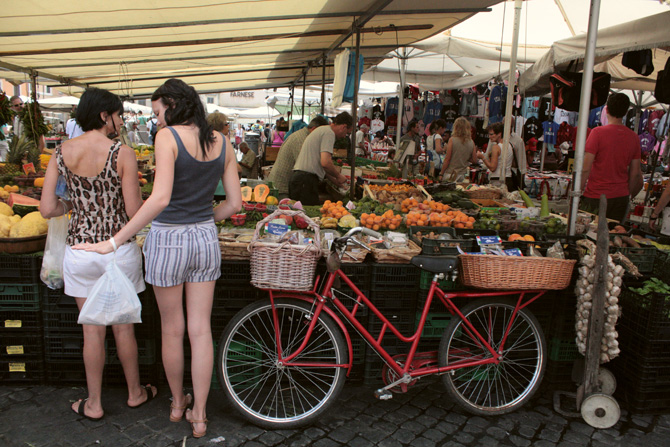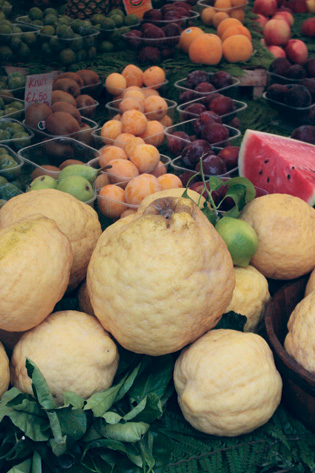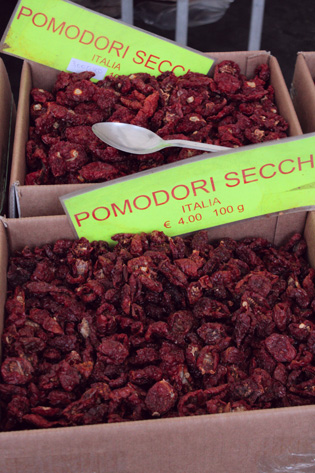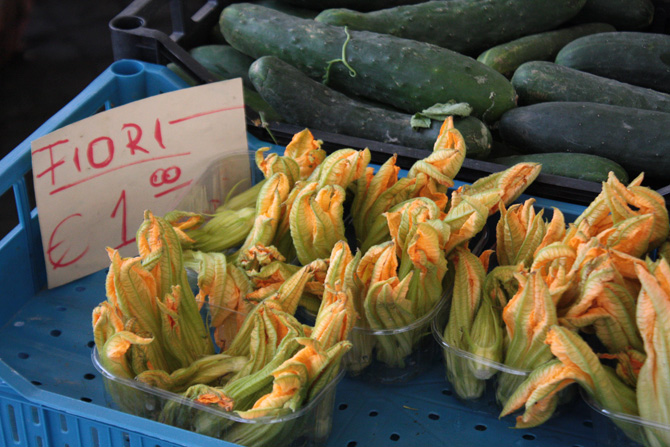 Wandering around central Rome is like wandering around one big museum. Everywhere you look are old buildings, old statues and fountains and old things. Yeah, it's all kind of ancient in Rome. So, when you get fed up with all that old stuff, head to the absolutely breathtaking Maxxi Museo – Rome's museum of contemporary art. The fabulous building was designed by star architect Zaha Hadid. It is really impressive and regularly hosts some real good exhibitions.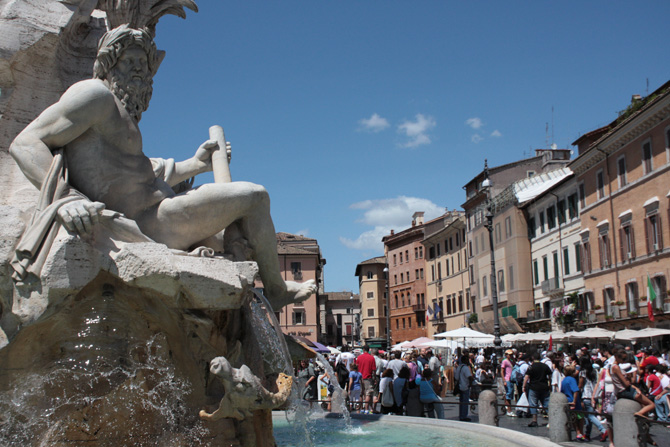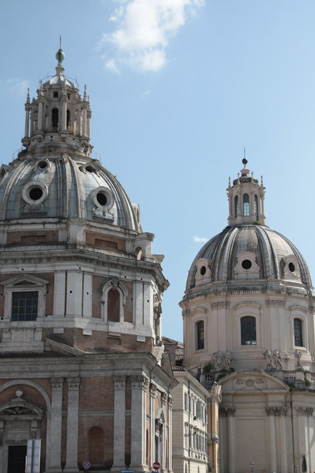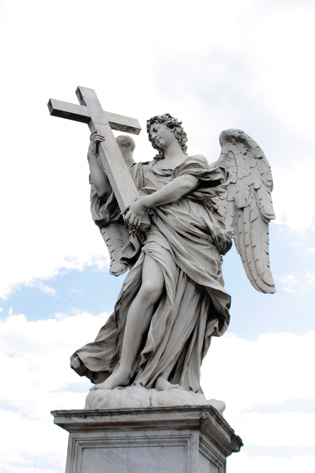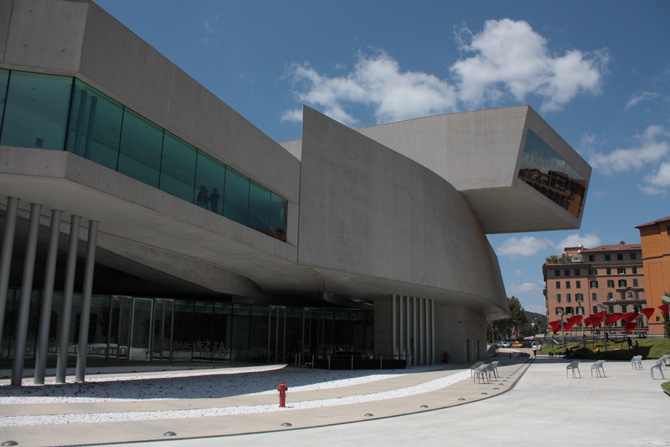 So, I hope this blog entry has provided a bit of inspiration for when you decide to go and discover the eternal city for yourself, and indulge in delicious Italian food… I personally can't stop dreaming about that pizza, about buffala mozarella and about gelato.. oh and about all those handsome Italian men that inhabit this great Italian city…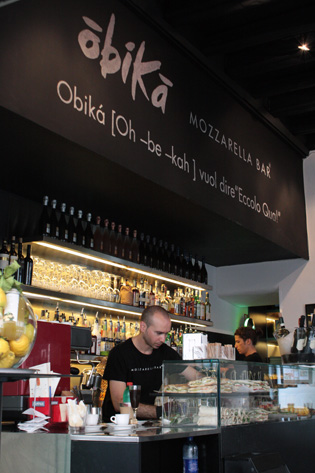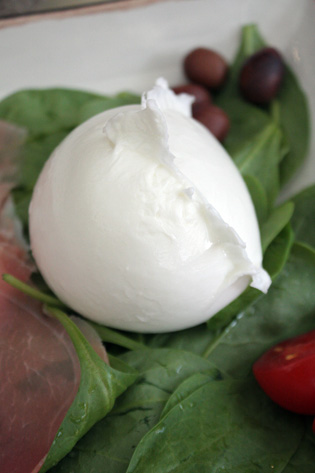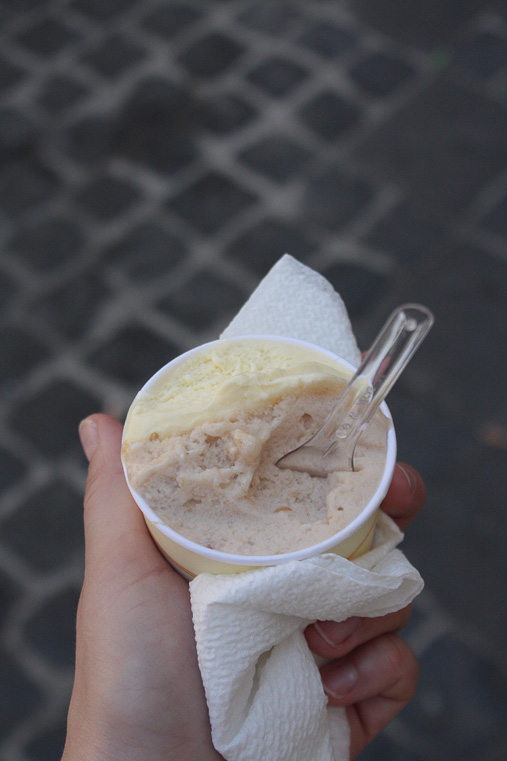 Addresses behind the break
Gelato
Gran Caffé Esperia
Lungotevere dei Mellini 1
Prati
This is where I had the chocolate orange ice-cream. Sit on one of the pavement tables or grab a seat inside, unless you want to take your cone to go on your way to the Vatican.
Il Gelato di San Crispino
Piazza della Maddalena 3
Il Centro
www.ilgelatodisancrispino.it
Flavours change according to what's in season. I had a lovely white peach sorbet and a honey ice cream.
Pizza and Pasta
Dar Poeta
Vicolo del Bologna 45
Trastevere
www.darpoeta.com
The best pizza I've ever tasted – chewy fluffy dough topped with an enormous portion of mozarella di buffala. Don't order the house wine unless you like it weak and sweet – opt for a beer instead.
Roma Sparita
Piazza di Santa Cecilia
Trastevere
www.romasparita.com
Best Cacio e pepe (pasta with black pepper and pecorino cheese) and lovely pizza.
Roman and Italian Fare
Enoteca Corsi
Via del Gesu 87-88
Il Centro
We aboslutely loved this little gem of a wine shop cum restaurant. Diners are tucked inbetween huge displays of wine and other spirits, the daily changing menu is a joy. If they have the white lasagna with artichoke, don't hesitate and go for it!
Urbana 47
Via Urbana 47
www.urbana47.it
A total joy – the daily changing menu has a really great selection of Italian dishes made with local ingedients. Cool interior and very friendly service.
Aperitivo
Al Vino al Vino
Via dei Serpenti 19
A very cozy wine bar, perfect for enjoying an aperitivo.
Freni e Frizioni
Via del Politeama 4-6
Trastevere
http://freniefrizioni.com/
This converted mechanic's workshop is a hip place to grab an aperitivo. However, if you're looking for a typically Italian place, don't bother – it reminded me a lot of an East London hangout.
Baked Goods
Forno Campo de' Fiori
Campo de' Fiori 227vicolo del Gallo 14
Il Centro
www.fornocampodefiori.com
This bakery has beautiful takeaway pizza slices and fantastic biscuits. Make sure to buy a selection of biscotti and cookies – they're outstanding. We particularly fell in love with little round, almond-covered macaroons – stuffed with a candied cherry! Absolutely to die for!
Caffès
Caffè della Pace
Via della Pace 3/7
www.caffedellapace.it
Lovely terrace just off the Piazza Navona. Great place for when it's raining too, the art deco interior makes it an ideal hideaway.
Bed and Breakfast
Sotto il Sole di Roma
Via Pietro della Valle 2
www.sottoilsolediroma.com
Lovely B+B near the Vatican, ask for xxx
Capricci Romani
Via Porta Castello 33
www.bebcapricciromani.com
Nice B+B, the breakfast is really good
At Your Place
Via di Porta Castello 33
www.atyourplacerome.com
Also a very nice B+B, and this guy makes the best cappuccino ever!
August 20, 2011