Read
This
Article
Or Tor Kor Market
Bangkok is a foodie's paradise: abundant streetfood stalls wherever you turn and innumerable markets. However, it can all get quite overwhelming! Where to start? Best head to Or Tor Kor Market, one of Bangkok's finest food markets, right next to the popular Chatuchak weekend market.
I often hear first-time Thailand travellers' concerns about eating streetfood in Bangkok. My personal conviction is to eat anything you like, as the general level of hygiene in Thailand is quite good and you just need to trust your own judgement (I drew the line at raw pork rice salad at a night market – the pork had been lying in 35° heat for hours).
Still, I respect these concerns and I'd really suggest that if you want to try streetfood somewhere in Bangkok, it should be at Or Tor Kor. It's a really neat setting and all quite sanitized. Let's say it's the Borough Market of Bangkok.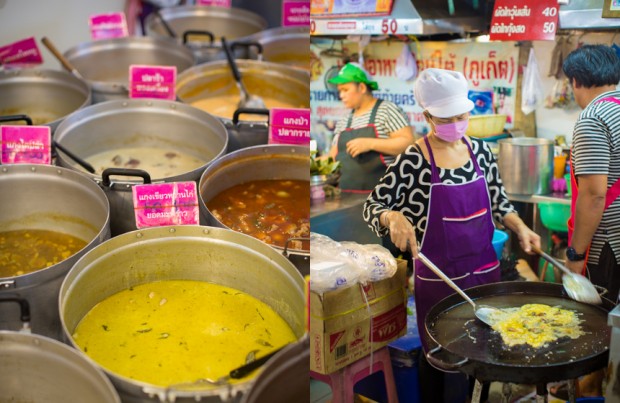 At Or Tor Kor you can get a great first impression of real Thai food, beyond Pad Thai and green curry. It's best to be curious and try a lot of the food – it will only set you back a few baht and the quality is really great.
A few things I'd recommend trying:
Hor mok: steamed Thai fish custard. It comes in a banana leaf which encases a delicate yet spicy fish and cocounut flan. Really deliciou
Durian: you either hate or love this prickly fruit – but you HAVE to try it! Deemed the stinkiest fruit on earth, durian is quite an opinion splitter. I personally found it quite pleasant, it reminded me of a ripe mango/papaya – not at all horrible as many people describe it.
Kanom Jeen Nam Yaa: Fermented rice noodles with super spicy fish curry
Nam Prik: Thai condiments. They come in many flavours and types: some are try (like crispy fried fish fried with curry paste), some are wet (nam prik num: a spicy green sauce eaten in the norther Thai city of Chiang Mai. Delicious with pork scratchings)
July 5, 2014