Read
This
Article
Istanbul – an overview
If there's one city that combines all the characteristics of a 21st-century metropolis with buckets of oriental charm, it's Istanbul. The ancient Turkish city spreads over two continents and wherever you go, you're bound to find an eclectic mix of Asian and European influences. For me, Istanbul is a colourful soundscape consisting of minarets blasting muezzins' prayers, noisy market traders and cars honking in the background. But it's the city's amazing food that fascinates me the most of course. From giant döner kebabs revolving in street food joints and market stalls brimming with Turkish delight to elegant high-end restaurants – Istanbul is a foodie's paradise.
A visit of Istanbul usually starts in Sultanahmet; home to the breathtaking Hagia Sophia and the Blue Mosque. Just next to it is the Grand Bazaar, a labyrinth filled to the brim with oriental rugs, shiny jewellery and all sorts of tourist tad. If you want a break from the hustle and bustle of this often hectic city, head to the quiet neighbourhood of Karaköy, where you'll find green, serene streets, hip cafés and plenty of cute stray cats. End the day with a ferry ride to the Asian side of town and enjoy breathtaking views of the Golden Horn, especially at sunset.
I explore Istanbul in three episodes of my show, you can watch the first episode here.
All these beautiful photos were taken by the super talented Istanbul photographer Gökhan Celem.
You can find all my favourite Istanbul places here on the website and on my Pinterest Map.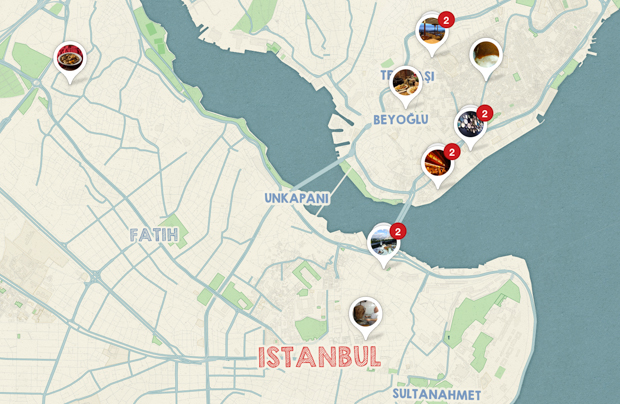 October 10, 2014