Read
This
Article
My Brick Lane
Brick Lane is the curry heart of London. It's literally a long street where innumerable neon-signed Indian restaurant rub shoulders. Expect to be stopped by eager restaurateurs, who try to drag you into their establishment to sample the "best curry in London" (most often not true at all). Most places are BYO, so you can stop at an off-license and bring your own bottle of wine, which is often opened for a little corkage fee.
It's definitely worth experiencing Brick Lane, but don't head here in the hope of sampling outstanding Indian cuisine. For proper curries and treats, it's worth venturing a bit off the beaten track. Tayyabs (by now a true London institution) in Whitechapel draws in the crowds with excellent Punjabi curries and grilled meats – expect to queue though, as it's one of the most popular restaurants in town. Dishoom on the other, Shoreditch end, offers the Bombay café experience right in the East end of London. Order a selection of small plates and share their truly mouthwatering dishes with your friends.
Brick Lane is expecially fun on Sundays, when hipsters parade up and down the road to see and be seen. You should also head to neighbouring Spitalfields market on weekends, where you can find plenty of cool clothes and accessories.
I explore Brick Lane in the Indian Feast episode of my show.
Find more of my favourite Brixton spots on my Pinterest map.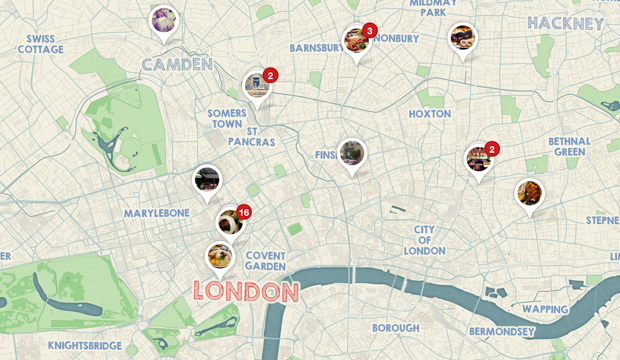 November 23, 2013