Read
This
Article
Fatih Karadeniz Pidecisi
In Istanbul, you have to make sure to go and eat pide. These freshly baked Turkish flatbreads come with all kinds of toppings – minced lamb, cheese and egg, spinach and cheese, cheese and sucuk (Turkish sausage) etc. In a way, they're a sort of Turkish pizza, but don't confuse them with lahmajun, the actual Turkish pizza.
If you want to sample some of the best pide in town, make sure to visit Fatih Karadeniz Pidecisi. It's off the beaten tourist track, a short taxi ride from the main Sultanahmed attractions. And it's really well worth it. This is a proper neighbourhood pidecisi, where locals come and eat together and share the latest gossip. The people at Fatih Karadeniz Pidecisi are really welcoming, so don't be shy to go. Oh and if you can, order dessert: I dubbed their excellent rice pudding the "friendliest dessert in Istanbul", as mine came with an accidental "smiley face" on it.
I visited Fatih Karadeniz Pidecisi and learnt how to make pide in the third Istanbul episode of my show, you can watch it here.
Fatih Karadeniz Pidecisi
Büyük Karaman Cd. No:47
Istanbul
www.fatihkaradenizpide.com
You can find the exact location of Özkonak and other tips on my Istanbul Pinterest map.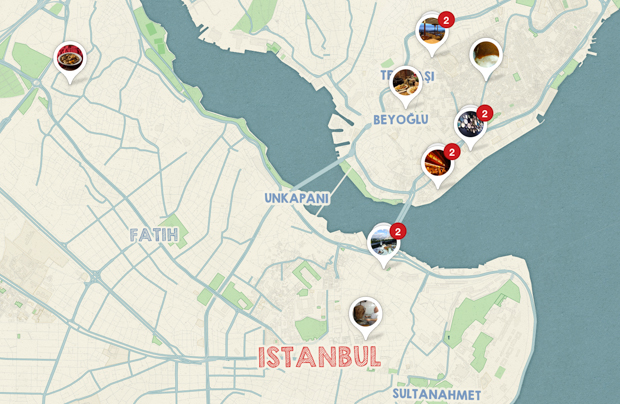 February 3, 2015