Washington DC book presentation at the Luxembourg Embassy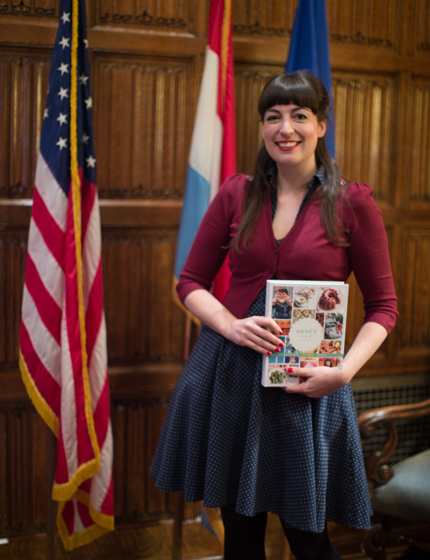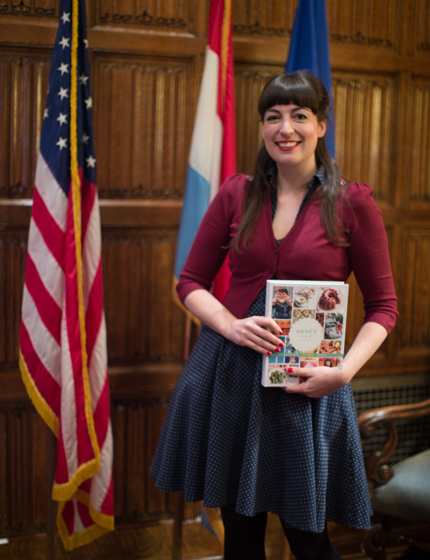 Read
This
Article
Washington DC book presentation at the Luxembourg Embassy
I'm very honoured to have been given the opportunity to present my cookbooks and show at the Luxembourg embassy in Washington DC on April 2nd 2015. Here is what Wort.lu wrote about it:
Luxembourg cookery ambassador Anne Faber paid a visit to the Luxembourg Embassy in Washington DC on Thursday as part of an international book tour.
Anne Faber became a familiar face on Luxembourgish television after launching her own series "Anne's Kitchen".
Filmed at her London flat, Anne showed viewers how to make British food with a Luxembourgish twist.
The series has proved a big hit with the foodies of Luxembourg and, with two cookery books under her belt, Anne is setting out to spread the word in the US, Germany and Japan.
On Thursday, the young cook was welcomed to the embassy by Ambassador Jean-Louis Wolzfeld with a reception attended by around 80 international guests.
"It's important to support and foster talented Luxembourgers, and show people abroad what is happening on the Luxembourg cultural and gastronomic scene," said Ambassador Wolzfeld.
Marco Schumacher, a Luxembourgish expat living in Pittsburg, drove over 4 hours to meet Anne's Kitchen "in the flesh". He said that he regularly watched the shows online on RTL from his home in the US.
Anne gave a talk about her career, progressing from food blogger to cookbook author and TV producer of her own show. She also prepared a few of her recipes in order to allow guests a taster.
"It's an incredible honour to be able to present my work at the Luxembourg embassy in Washington DC. I would have never dreamt that my Brownies would one day be served to diplomats and Americans in such a prestigious setting," Anne said afterwards.
The event in Washington was the start of an international Anne's Kitchen book tour. In June, the foodie will host an event at the Luxembourgish restaurant "De Maufel" in Berlin. Later that month she will cater the nationals day embassy reception in Tokyo. In autumn, an event is planned at the Luxembourg embassy in Warsaw, Poland.
More press coverage here:
Wort.lu Deutsch: http://www.wort.lu/de/panorama/besuch-in-washington-anne-faber-reist-mit-ihren-kochbuechern-durch-die-welt-551ec0710c88b46a8ce56c18
Tageblatt.lu: http://www.tageblatt.lu/panorama/story/Anne-s-Kitchen-auf-internationaler-Buchtour-23853212
April 6, 2015